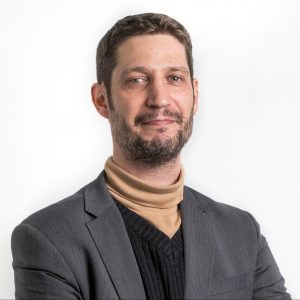 Realizador de Medios Convergentes en RTVC Colombia y Profesor en ERAM/Universidad de Girona.
Productor y asesor de proyectos convergentes (interactivos, transmedia e inmersivos). Doctor en Comunicación y Maestría en Artes Digitales (UPF). Profesor acreditado por ANECA y AQU (España). Ha sido investigador afiliado del Open Documentary Lab (MIT, 2013-2018) y es miembro de la organización i-Docs (University of the West of England). Ha ejercido como realizador en 25TV (2000-2004), colaborador en Televisió de Catalunya (Departamento Proyectos de Aprendizaje, 2013-2014), asesor y colaborador de RTVE.ES (Departamento de Medios Interactivos, Somos Documentales, 2014-2018) y colaborador en RTVCPlay (Colombia, 2020-2021). Ha ejercido como productor y realizador en Tasmania Films y Alexander Productions (2004-2006), y codirigido la productora Espill Media (2013-2017). Colabora con el International Centre for New Media (European Youth Award, Austria) y Visualidades, Narrativas, Imaginarios y Tecnologías (UNCUYO, Argentina).
Ha ejercido como jurado evaluador de becas para La Caixa (2018-2020) y miembro del comité de la conferencia ICIDS (International Conference on Interactive Digital Storytelling, 2019).